Clockwise from top left: RM50 | RM40 | RM40 | RM50
More gorgeous dresses, perfect for summer-like weather.
White cardigans and tops are wardrobe staple, so, gotta have them!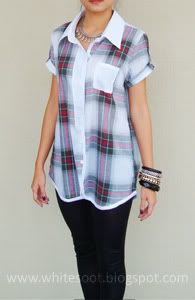 Clockwise from top left: RM55 | RM55 | RM53 | RM45
Unique pieces of dresses of tops can be found here!
LOVE the geometrics maxi dress, and because its kinda plain, play it up
with dangling accessories and fun jacket.
Heart the Scottish plaid boyfriend shirt too! Perfect for casual Sundays.
Clockwise from top left: RM52.50 | RM62 | RM41 | RM41
A few basic pieces that can be dressed up or down according to your personality!
If you haven't tried a skort (thats a skirt+short if you are wondering)
yet, try this one in sea blue - will match just about everything.
Any fan of biker jacket? Presenting you these affordable yet stylish babies!
Bring the Kimora in you with the yummy gold jacket ;)
Woooohh! Someone's been making an art project on your tights!
Very unique piece, this one.
Sista Closette
Clockwise from top left: RM44 | RM42 | RM45 | RM45
Cute tops, cheerful colour, comfy bottoms; that is all it takes!
Keep it simple with flattering detailing for a flirty noon.